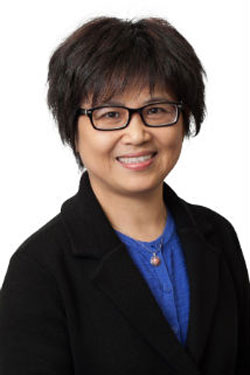 F. Helen Yu, NP-C
Fayetteville
Monday, Tuesday, Wednesday, Thursday, Friday
770.461.6400
1240 Highway 54 West
Building 300, Suite 310
Fayetteville, GA 30214
Helen Yu is a Certified Nurse Practitioner with Atlanta Allergy & Asthma and sees patients in our Fayetteville office.
Helen graduated from Hangzhou Nursing School in China in 1983 and has been a practicing nurse ever since. She earned a Master of Science in Nursing at the Frontier Nursing University in May 2013. Helen was a recipient of Johnson & Johnson MSN-NP Student Scholarship from the American Academy of Nurse Practitioner Foundation in 2011.
Helen grew up in a family where nine generations before her practiced traditional Chinese medicine. She has devoted herself to promoting health and wellness through holistic approaches and evidence-based quality care.
Helen immigrated to the U.S. in the early 1990's, and since 2007 has been living in Peachtree City with her husband and two children. She enjoys cooking, hiking, blogging, travel, and spending time with friends.