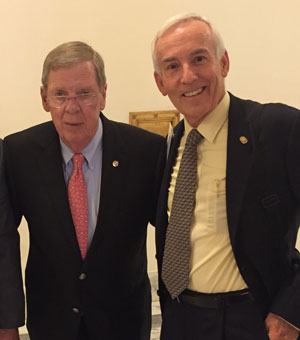 US Senator Johnny Isakson with Dr. Stanley Fineman
The Allergy & Asthma Network and the American College of Allergy, Asthma & Immunology celebrated Allergy & Asthma Day on Capitol Hill recently. Our own Dr. Stanley Fineman was in Washington, D.C. to participate in this program that discusses relevant issues pertaining to the care of patients with allergies and asthma with our legislators.
During the briefing there were several presentations including a heart-wrenching talk by retired NFL hall of famer, Ickey Woods, who tragically lost a son to asthma. All of these efforts are designed to highlight the importance of accurately diagnosing the triggers of asthma and having an asthma management plan in place to keep symptoms in control. The specially trained allergists at Atlanta Allergy & Asthma are experts in diagnosing and treating asthma. One of our 18 asthma specialists can help you learn more about your asthma and develop a treatment plan that works for you.