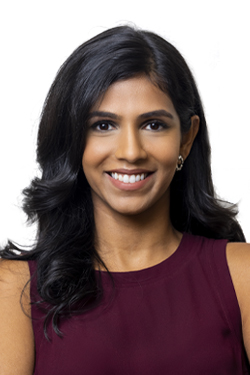 Meera M. Patrawala, MD
Tuesday, Thursday, Friday
770.475.0807
1357 Hembree Road
Suite 200
Roswell, GA 30076
Monday, Wednesday
678.801.4838
2089 Teron Trace
Suite 250
Dacula, GA 30019
Meera M. Patrawala, M.D., received her bachelor's degree and medical degree from The George Washington University in Washington, D.C. Dr. Patrawala completed her internship and residency in Internal Medicine at Emory University in Atlanta. After completing her specialty training in Allergy/Immunology at Emory, she then served as Senior Research Associate in Emory's Department of Pediatrics.
Dr. Patrawala is board certified by the American Board of Allergy and Immunology. She is a member of the American Academy of Allergy, Asthma and Immunology and the American College of Allergy, Asthma and Immunology. Her special interests include the management of food allergy and asthma.
Dr. Patrawala and her husband reside in Sandy Springs. She enjoys playing tennis, exercise, and listening to audiobooks.
Dr. Patrawala sees patients in the Alpharetta and Hamilton Mill locations.
Publications
Sepeta LN, Berl MM, Wilke M, You Z, Mehta M, et al. Age-Dependent Mesial Temporal Lobe Lateralization in Language FMRI. Epilepsia. 2016; 57(1):122-130.
Kuruvilla M, Patrawala M, Levy JM, Shih J, Lee FE. Association of antieosinophil therapy with decreased body mass index in patients with severe asthma: A preliminary retrospective analysis. Ann Allergy Asthma Immunol. 2019. Apr 4.
Patrawala M, Kobrynski L. Nonsevere combined immunodeficiency T-cell lymphopenia identified through newborn screening. Curr Opin Allergy Clin Immunol. 2019.
Patrawala M, Cui Y, Peng L, Fuleihan RL, Garabedian EK, Patel K, et al. Pulmonary Disease Burden in Primary Immune Deficiency Disorders: Data from USIDNET Registry. J Clin Immunol. 2020.
Patrawala M, Kuruvilla M, Li H. Successful desensitization of Pegvaliase (Palynziq®) in a patient with phenylketonuria. Mol Genet Metab Rep. 2020;23:100575. Published 2020 Mar 6. doi:10.1016/j.ymgmr.2020.100575
Patrawala M, Shih J, Lee G, Vickery B. Peanut Oral Immunotherapy: a Current Perspective. Curr Allergy Asthma Rep. 2020;20(5):14. Published 2020 Apr 20. doi:10.1007/s11882-020-00908-6
Tison, K.L., Patrawala, M. & Blaiss, M.S. Monoclonal Antibody Therapy in Childhood Asthma.
Curr Allergy Asthma Rep 20, 26 (2020). https://doi.org/10.1007/s11882-020-00919-3
Patrawala, M, Lee, Gerald, Vickery, B. Food Allergy Primer: Shared Decision Making in Food Allergy Management.
Accepted, in press:
Patrawala, M, Proctor, K, Stubbs, K, Sharp, W, Vickery, B. Avoidant-Restrictive Food Intake Disorder (ARFID): A New Treatable Comorbidity Associated with Food Allergy?
Abstract Presentations
National:
A Novel Mutation in a Primary Immunodeficiency Patient Revealing Kabuki Syndrome, American College of Allergy, Asthma and Immunology Annual Meeting, San Francisco, CA, 2016 (poster presentation)
Long-Term Follow-up of Pediatric Allergic Fungal Sinusitis with Intracranial Extension – A Case Series, American Academy of Allergy, Asthma & Immunology Annual Meeting, Atlanta, GA, 2017 (poster presentation)
A Case Series: Diagnosing Chronic Granulomatous Disease in Patients Presenting with Hemophagocytic Lymphohistiocytosis, Clinical Immunology Society Annual Meeting, Seattle, WA, 2017 (poster presentation)
Pulmonary Disease Burden in Primary Immune Deficiency from USIDNET Registry, American Thoracic Society Annual Meeting, San Diego, CA, 2018 (poster presentation)
Catamenial Anaphylaxis Presenting Prior to the Onset of Menses, American College of Allergy, Asthma, and Immunology, Seattle, WA, 2018 (poster presentation)
A Patient with Cystic Fibrosis Transmembrane Conductance Regulator Related Disorder and Selective Antibody Deficiency, American Academy of Allergy, Asthma & Immunology Annual Meeting, San Francisco, CA, 2019 (poster presentation)
Two-year-old male with recurrent cervical lymphadenopathy presenting with rash, Clinical Immunology Society Annual Meeting, Atlanta, GA, 2019 (poster presentation)
Epinephrine Autoinjector Education: A Quality Improvement Project, American College of Allergy, Asthma, and Immunology Annual Meeting, Houston, TX, 2019 (poster presentation)
Successful Desensitization to Florinef After Anaphylaxis in a Patient with Postural Orthostatic Hypotension (POTS) disease American College of Allergy, Asthma, and Immunology Annual Meeting, Houston, TX, 2019 (poster presentation)
Avoidant-Restrictive Food Intake Disorder (ARFID): A New Treatable Comorbidity Associated with Food Allergy? American Academy of Allergy, Asthma & Immunology Annual Meeting, Philadelphia, PA, 2020 (poster presentation)
Regional:
The Needle in the Diagnostic Haystack: Neurosarcoidosis Presenting as Meningitis in a Young, Healthy Patient, Society for General Internal Medicine Mid-Atlantic Annual Meeting, 2015 (oral presentation)
Epinephrine Autoinjector Education: How Good Are We? Allergy, Asthma and Immunology Society of Georgia Annual Meeting, 2019 (oral presentation)
Tree nut allergies and mixed tree nut oral food challenges: a retrospective review of the outcomes in excluding tree nut allergy. Division of Pulmonary, Allergy and Cystic Fibrosis annual research presentation. May 2020 (oral presentation)