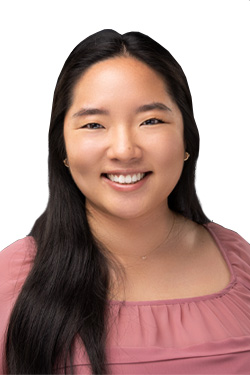 Esther E. Chin, FNP-C
Monday, Tuesday, Wednesday, Thursday, Friday
770.995.1537
600 Professional Drive
Suite 210
Lawrenceville, GA 30046
Esther E. Chin is a board-certified Family Nurse Practitioner who sees patients at the Lawrenceville office.
Esther received her Master of Science in Nursing from Emory University in 2021. Prior to that she worked with patients at several medical facilities before pursuing further education. Esther is a graduate of the University of Georgia and has her Bachelor of Science in Nutritional Sciences.
Esther is a member of the American Association of Nurse Practitioners and the Southeastern Allergy, Asthma, and Immunology Society.
Esther lives in Atlanta with her two sisters. In her spare time she enjoys visiting her family in Augusta, exploring new coffee shops, paddle boarding, and spending time with her friends.