We are approaching the fall allergy season and with the coronavirus still impacting our area, those with allergies and allergic asthma may continue to be concerned when experiencing symptoms consistent with COVID-19. Although there may be symptom overlap, there are also distinct differences: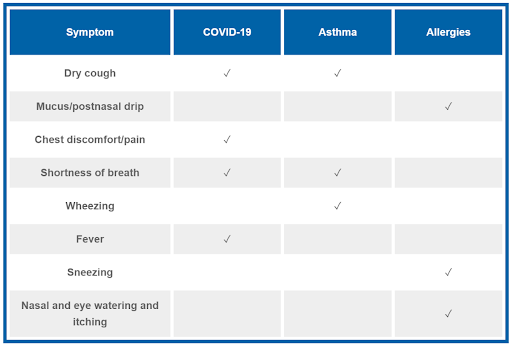 The allergists at Atlanta Allergy & Asthma recommend continuing your maintenance medications and/or allergy immunotherapy for symptom control especially during this crisis. If you feel your symptoms are not well controlled, please speak with your allergist for an updated treatment plan.
How COVID-19 Affects People With Asthma
The Centers for Disease Control and Prevention has listed asthma as one of the chronic illnesses that may increase the chance of a severe symptoms with a case of COVID-19. So, what do you need to know if you or a family member suffers from asthma? The American College of Allergy, Asthma and Immunology (ACAAI) has listed these points below:
Respiratory viruses are the most common trigger for asthma exacerbations (severe worsening typically requiring oral steroids to relieve symptoms).


Not all viruses affect asthma patients equally. Some viruses such as influenza and rhinovirus are more likely to trigger asthma flares than others.
Right now, we don't know if COVID-19 is one of those viruses that tends to trigger asthma exacerbation.
There is no clear evidence that patients with asthma are at any higher risk of contracting COVID-19.
Asthma is an "underlying medical condition" that may be associated with more severe disease if you are infected with COVID-19.
There is no evidence that asthma medications used to prevent symptoms (inhaled steroids, oral steroids, montelukast, biologics), etc. increase your risk of contracting COVID-19.
If you become infected, use caution and avoid experimental treatments unless the treatment is specifically recommended by the physician caring for you.
The ACAAI has also provided the following statement regarding continuing the use of allergy/asthma medications during the pandemic:
With the COVID-19 pandemic coinciding with allergy seasons, you may be concerned about using your intranasal corticosteroids for nasal allergies and your inhaled for your asthma. There is no data that continuing these allergy and asthma medications will have any effect on increasing your risk of getting the COVID-19 infection or if you get the infection, lead to a worse outcome. It is important to control your allergy and asthma symptoms as they may lead to misdiagnosis of COVID-19 as there are some overlap of symptoms.
If your asthma is not well controlled, consult with your allergist. They can assess symptom control and update your Asthma Care Plan if needed. Tele-visits are available with all Atlanta Allergy & Asthma providers.
Novel Coronavirus, COVID-19, Facts:
Spread mainly through close contact (within 6 feet) from person-to-person in respiratory droplets. People infected often have symptoms, but it is now assumed that some people without symptoms may be able to spread the virus.
It may be possible that a person can get COVID-19 by touching a surface or object that has the virus on it and then touching their own mouth, nose, or possibly their eyes.
Symptoms appear 2-14 days after coming in contact with the virus.
According to the Centers for Disease Control (CDC), COVID-19 symptoms can include:
Fever
Cough
Shortness of breath
The CDC recently added these additional symptoms which may be consistent with COVID-19: chills; repeated shaking with chills; muscle pain; headache; sore throat; new loss of taste or smell.
Who Is At Risk?
According to the CDC, people in the following categories are at higher risk for developing more serious complications from COVID-19 illness:
People aged 65 and older
People with underlying medical conditions including uncontrolled asthma, chronic lung disease, serious heart conditions, diabetes, and chronic kidney or liver disease.
People who are immunocompromised due to cancer treatment, smoking, bone marrow or organ transplantation, immune deficiencies, poorly controlled HIV or AIDS, and prolonged use of corticosteroids and other immune weakening medications.
People with severe obesity (BBMI of 40 or higher)
How Can You Avoid Getting COVID-19 and Other Respiratory Infections?
Wash your hands often with soap and water for at least 20 to 30 seconds. If soap and water is not available, use a hand sanitizer with at least 60% alcohol
Avoid touching eyes/nose/mouth
Clean and disinfect frequently touched surfaces
Avoid close contact (at least 6 feet) especially with sick people
Cover mouth and nose with a cloth face cover when around others
Don't share makeup, food, dishes, or eating utensils
Stay home as much as possible and avoid large group settings
What Should I Do If I Think I Am Sick?
If your symptoms are not serious, do not go to the hospital. First, call your primary care provider or urgent care center. If you develop symptoms and you have been in close contact with a person known to have COVID-19, or you have recently traveled from a high-risk area, call your healthcare provider or public health agency and follow their directives.
Please know that not all patients with COVID-19 require hospital admission. Those without respiratory complications can self-isolate but should seek medical attention if their symptoms worsen. Closely monitor for emergency warning signs and get medical attention immediately. Emergency warning signs include:
Trouble breathing
Persistent pain or pressure in the chest
New confusion or inability to arouse
Bluish lips or face
Helpful Resources